You are likely aware that full-mouth dental implants are a great option to replace missing teeth.
But they can be pretty pricey, especially if you are on a budget.
Based on our dental industry experience, we have gathered the most essential information if you are considering dental implants overseas.
Read on to learn about the prices and risks of getting All on 4 procedures outside of Australia.
How Much Does all-on-4 Cost in Australia?
My Implant Dentist offers All-on-4 and other full-arch restoration options to replace missing teeth. All-on-4 dental implants cost in Perth start at $19,000 per jaw.
We promise to you to provide high-quality dental care at an affordable price.
There are many great options to replace missing teeth, and we can help you figure out which ones are right for you.
Our dental lab work is done in Perth using the latest technology and materials of the highest quality.
Some options include the fixed Nobel-PROCERA bridge with titanium milled bar or precision-milled zirconia bridge.
For comparison, you can see the starting price of dental implant procedures in other countries.
All-on-4 Dental Implants Cost In Different Countries
All prices below are based on research we have done over the years. Prices may change and are based in AUD.
Please remember that these don't include the cost of your flights, hotel accommodation and transport.
Sleep dentistry also may or may not be included in the below prices.
The dental implant materials used may also vary.
Another consideration is that you won't be able to have follow-up appointments with the same dentist who performed your tooth implant surgery.
This can be a significant downside, as many Australian dentists won't be able to help with dental work that you had done overseas.
| Country | All on 4 Per Jaw Price from |
| --- | --- |
| Bali – Indonesia | from $9,500 AUD |
| Bulgaria | from $3,200 AUD |
| Cambodia | from $8,000 AUD |
| Colombia | from $6,300 AUD |
| India | from $4,000 AUD |
| Philippines | from $7,500 AUD |
| Thailand | from $7,600 AUD |
Note: The presented prices are per 1 jaw. Such low costs are explained by each country's lower wages, cheaper dental materials being used and lower overhead costs. In some countries, there may also be a lack of dental industry regulation, which can pose a health risk but reduces costs.
What Is the All-on-4 Treatment?
The procedure is a long-term solution to tooth loss. The All-on-4 treatment replaces your missing dental arch with a full arch replacement.
It's a game-changing method for dentists to replace missing teeth; patients no longer have to deal with uncomfortable dentures or uncomfortable dental solutions. All-on-4 combines comfort and aesthetics while restoring smiles to full functionality and natural appearance.
It's a popular procedure for people who don't want to wear dentures or whose dentures are no longer functional. It has several advantages compared to traditional implants, including a faster and less expensive procedure. Furthermore, unlike many other implant types, patients leave the surgery with teeth attached to their implants.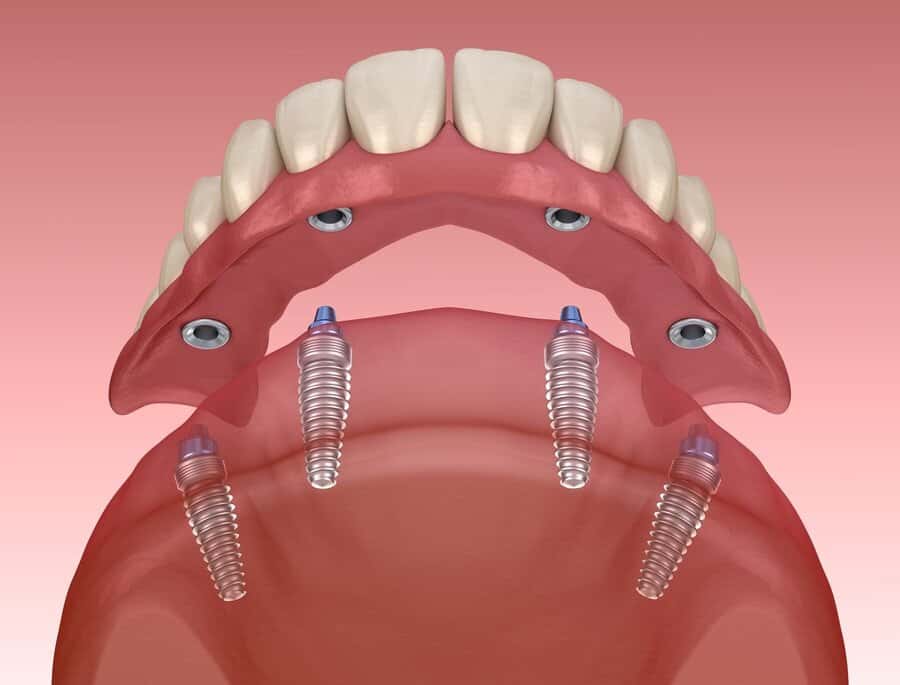 Can you Get Affordable All-On-4 Implants Without Quality Loss?
Absolutely! Our team at My Implant Dentist specialises in providing affordable dental implants. 
Because we place thousands of dental implants each year in Australia, we can offer you very competitive rates. Our dental implants for all on 4 start from $19,000 per jaw, with many financing options available.
While selecting an appropriate dental implant clinic for All on 4 dental implants, pay attention to:
medical centre's reputation

dentists experience and skills

access to modern technologies and equipment

patient reviews.
My Implant Dentist ticks all the boxes, as our dentists are highly qualified and our patients are raving about the experience.
See our video gallery of happy patients for more information.
Why Go Abroad for Dental Implants?
Although cost is the primary motivator for those choosing to have this procedure done abroad, other factors must be considered.
In Australia, you can benefit from the expertise of highly qualified Australian dentists who may not be available in your area. 
When you get your All on 4 treatment done abroad, at home, an Australian dentist might need to continue the treatment if there are any complications.
This is often difficult, as the materials used and surgical standards are not the same overseas.
What Is the Recovery Time for All-on-4 Cost Dental Implants?
Most people are still hesitant to get all-on-four implants because they are concerned about the recovery time. The time it takes for all-on-4 dental implants in Perth to heal varies depending on the patient, the procedure, and the surgeon.
All-on-four dental implants have a quick recovery time and cause minor discomfort. In most cases, you will only be required to stay in the hospital for one day. All-on-four dental implants take about a week to recover from. Within two weeks of your surgery, you should be able to resume your routine. You can eat and normally drink within a month. After two months, you can start exercising. In three months, you'll be able to smile with confidence.
All on 4 Aftercare
Patients often experience bruising, swelling, and general discomfort in the days following surgery. To fully recover and adjust to your new teeth, taking a few days off work is recommended. In the months following your procedure, your dentist will advise you on which foods you can and cannot eat.
Final Checks And Fitting
Your All on 4 implants treatment in Brisbane should be ready to support a permanent overdenture 6-9 months after surgery. This is usually made of porcelain or another high-quality, long-lasting material.
If you take good care of your new teeth, they should last for at least 20 years.
You'll need to visit your dentist regularly for maintenance and checkups. Check whether these visits are covered as part of your treatment or if you'll have to pay for them separately.
Is There an Alternative to All-on-4 Dental Implants?
Here Are Some Of the Alternatives To Dental Implants
1. Full Mouth Dentures – Many patients are familiar with full mouth dentures, which are dental implant options. Dentures are most commonly associated with full mouth dentures, which are two dentures that replace both the upper and lower arches of teeth.
2. Partial Dentures – when you have some healthy teeth but several missing teeth that need to be replaced. The partial denture's teeth are attached to a plastic base that matches the colour of your gums, allowing the dentures to blend in with your other teeth.
3. Fixed Bridges – Bridges that are permanently in place Fixed bridges, unlike total or partial dentures, are permanently attached to the teeth. The bridge will be installed in the space using a particular type of bonding material, and only your all-on-four dentists will be able to remove it.
 Where to Get All-on-4 Dental Implants in Your Area
Find an implantologist who specialises in the All-on-4 procedure. Because not all dentists use the same systems, make sure they have some experience with this type of implant.
You can find an All-on-4 dentist using an online or hardcopy directory in the same way you would any other dentist. You should also inquire if your dentist offers All-on-4 implants or if they can refer yo