Key Takeaways:
Not all dentists perform the same functions. There are specialists in charge of handling some cases.
A prosthodontist is different from a general cosmetic dentist because of their level of education and area of specialisation
A general dentist will refer you to a prosthodontist in severe cases of tooth loss.
When you have damaged or missing teeth, your first instinct would be to 'visit the dentist.'
However, not all dentists function in the same field.
In the dentistry field, there are different specialist dentists. Then there is the general dentist. There are some issues your general dentist cannot handle, so they refer you to a specialist.
In your case, the right specialist to visit is the Prosthodontist.
Continue reading if you're interested in knowing and learning more about who a Prosthodontist is and what Prosthodontics involves
What is a Prosthodontist?
Prosthodontics is a branch of cosmetic dentistry responsible for replacing damaged, missing, or dysfunctional teeth. The prosthodontist is a dental specialist that makes dental prosthetics, otherwise known as fake teeth.
Prosthodontist comes from the words 'Prostho' and 'Dontist.' Prostho refers to "replacement," while Dontist refers to "teeth." The two words mean teeth replacement, which is not far-fetched from the meaning.
After general dentistry, the prosthodontist receives extra training in fabricating crowns and dentures alongside other restorative treatments. A prosthodontist is also responsible for treating Temporomandibular joint (TMJ) disorders.
Prosthodontics, also called prosthetic dentistry, refers to developing and implanting dental prostheses. These dental specialists are also skilled in cosmetic dental surgery.
They understand the dynamics of a smile and the detailed process involved in preserving a healthy mouth. These specialists are trained to achieve this feat because cosmetic surgery is a confidence builder and self-esteem booster.
What is the Difference Between a Prosthodontist & General Dentist?
General dentists have the task of handling all routine dental care and work. They are also in charge of minor dental procedures such as dental fillings. Some other dentists receive additional training in some other methods.
On the other hand, a prosthodontist is a dental specialist who has additional and extensive training in restoring and replacing missing or dysfunctional teeth.
The prosthodontist handles major cosmetic surgery. Their end goal is to improve your oral self-confidence and self-esteem, thus producing a beautiful smile solution and a better facial appearance.
While a prosthodontist is in charge of replacing and restoring oral health and function, a general dentist is in charge of repairing teeth repair ensuring they are healthy.
Also, the prosthodontist handles all major surgery, such as jaw surgery, implants, and dentures; however, the general dentist limits the performance of some specific surgery.
The general dentist is your go-to everyday healthcare provider for oral health and a resource for everything. The specialist (prosthodontist) takes over when there's a need for additional care and services.
What Does a Prosthodontist Do?
Prosthodontists specialise in restoring healthy teeth and replacing damaged, missing, or dysfunctional teeth. They replace missing teeth with dentures, dental implants, crowns, or caps.
Some specially trained prosthodontists work with people who have head and neck deformities; they replace the missing parts of the jaw and face. They also perform facial cosmetic surgery.
After comprehensive and extensive training, a prosthodontist specialises in making teeth replacements such as veneers, crowns, and bridges.
When your dentist faces complex and severe cases, he calls out the attention of the prosthodontist to such matters for intervention.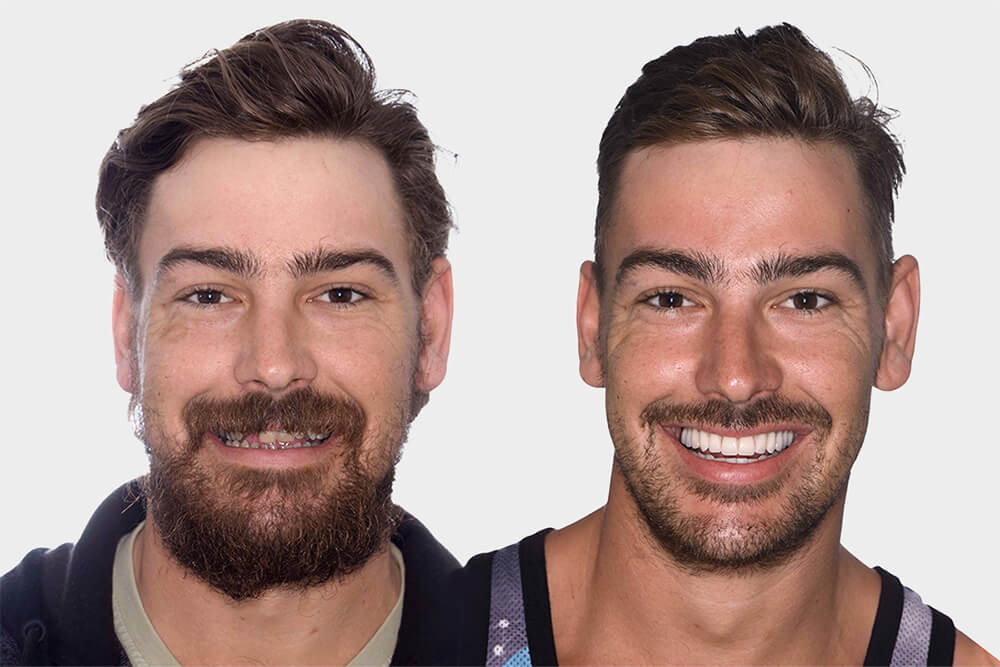 Prosthodontic Services We Provide
At My Implant Dentist, we provide excellent prosthodontics services to help replace your missing teeth while restoring your smile. Our services include various dental prostheses options.
Dental Implants
The prosthodontist oversees the dental implant procedure. Dental implants are prosthesis devices for missing tooth replacements made from either titanium or ceramic. Your prosthodontist places them in your jawbone. When it heals, the crowns, bridges, or dentures are there for restoration.
There are removable and non-removable implant-supported options. But your dental care provider is best positioned to recommend the most suitable for you.
Dental Crowns & Bridges
Dental crowns, commonly called 'caps, ' help cover badly damaged teeth. You will need a crown if you've had a root canal or an extensive decayed or cracked tooth.
Dental bridges are effective when there are one or more missing teeth in a row.
Orthodontists specialise in tooth and jaw alignment, mainly concentrating on ensuring your teeth and jaw are properly positioned. Prosthodontists, on the other hand, concentrate on tooth and face restoration.
This dental prosthetic has two crowns on either side, with pontics filling the spaces. Once in position, the natural teeth hold the crowns in place, and the pontics cover the space in your grin.
Dental Veneers
Dental veneers are shells that cover teeth discolouration or chipped teeth to improve their appearance. Veneers are solely for cosmetic concerns and purposes.
Dentures
There are two kinds of dentures – partial and full dentures. Full dentures replace a full arch of missing teeth, while partial dentures replace several missing teeth.
Do I Need a Prosthodontist?
There are so many reasons why you will need a prosthodontist. It could be because of an accident involving the mouth, for cosmetic purposes, or congenital purposes. Your dentist may refer you to a prosthodontist if you exhibit any of the following:
Lost, injured, or decayed teeth
Need replacement of a tooth with prosthetic substitute
FAQs
Is Prosthodontics The Same As Dentures?
No, prosthodontics is not the same as dentures. Prosthodontics is a branch of dentistry associated with replacing and restoring missing or damaged teeth, while dentures are a prosthodontics procedure.
Do Prosthodontists Clean Teeth?
Your prosthodontist can instruct you on correctly brushing your teeth with a manual or electric toothbrush and flossing your teeth to clean in between them.
Do Prosthodontists Do Root Canals?
No, they don't. If you need a root canal, your dentist will refer you to an endodontist.
What Is The Speciality Of A Prosthodontist?
A prosthodontist specialises in treating complex dental matters such as restoring and replacing missing and lost teeth.
Which Is Better, Orthodontics Or Prosthodontics?
Orthodontists specialise in tooth and jaw alignment, mainly concentrating on ensuring your teeth and jaw are properly positioned. Prosthodontists, on the other hand, concentrate on tooth and face restoration. The best specialist for you depends on your problem or issue.