Dentures have many advantages, in addition to better dental quality. They will make you look younger, talk more clearly, and even improve your morale. But to get All on 4 dental implants takes around four to six months to get All-On-4 dental implants. The first two months are spent waiting for the implants to fuse with the jawbone, and the next two to four months are spent waiting for the permanent teeth to be made.
Some adjustment time may be needed before completely benefiting from All-on-4 implant-supported dentures. Today, we'll look at how long it takes for our All on 4 dentist Perth patients to adjust to implant-supported dentures.
After an All-on-4 procedure, what can I expect?
Many years ago, the oral health advances open to us today would have been unthinkable. Even if you were the richest and most influential person alive, finding a collection of teeth that look and sound natural after you've lost your own would be unthinkable. However, we now have access to cutting-edge treatments like All-on-4 dental implants Brisbane.
If you have missing or loose teeth, advanced gum disease, or persistent and serious dental infections, all-on-4 dental implants are a cost-effective long-term option. Another significant advantage of All-on-4 implants is that they prevent jaw bone loss.
The All on 4 Before and After Gallery showcases the incredible transformation patients have experienced with this revolutionary dental procedure.
But what happens when you get your All-on-4 dental implant? How long would it take for your new teeth to feel like your own?
Getting Used to Implant-Supported All-on-4 Dentures
Each patient's adjustment to All-on-4 implant-supported dentures takes a different amount of time. Some people adapt easily, while others can need more time.
Those who have been without teeth for a long time without dentures may face a longer transition period than those who have just lost their teeth, but this is not always the case.
Individual experiences can vary, but patients should plan on taking some time to adapt.
Adaptation During Recover
All-on-4 implant-supported dentures are attached to multiple dental implants that are surgically inserted through the gums and through the jawbone to keep them in place. It takes four to six months for the bone to fully heal and bond with dental implants after they are placed.
Patients can receive immediate-load All-on-4 implant-supported dentures if All-on-4 implants are used. This means they'll be able to use their new All-on-4 implant-supported dentures right away.
Patients who receive conventional implants for their dentures must wait until they are fully healed before wearing their All-on-4 implant-supported dentures. This can take anywhere from six months to a year.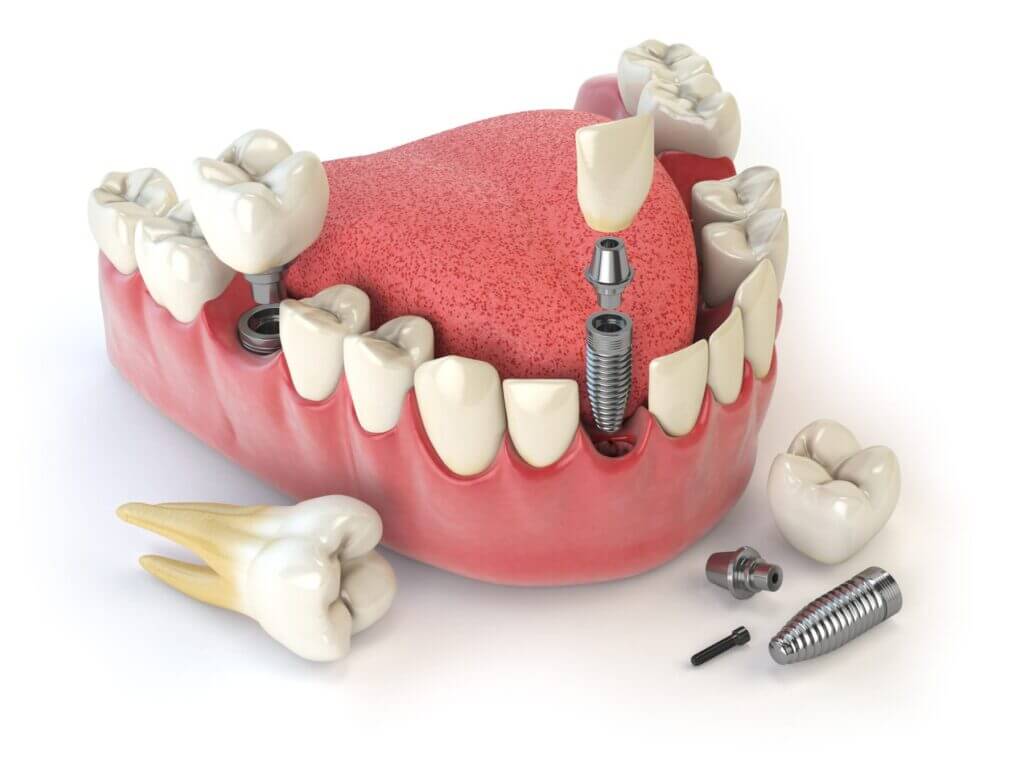 Eating with Implant-Supported All-on-4 Dentures
Patients who have All-on-4 implant-supported dentures will begin eating with them the same day they receive their restoration. They can, however, eat soft foods and chew slowly as they recover, which can take several months. Patients who have had All-on-4 surgery have normally gotten used to eating with dentures by the time they are healed, so eating crunchy or chewy foods is usually not a big deal.
Patients with standard All-on-4 implant-supported dentures will eat their favourite foods four to six months after the implants are installed when their denture repair is attached. It can take a few meals to get used to eating with dentures that remain in place when chewing, but most patients adapt quickly.
Getting Used to Speaking with Implant-Supported All-on-4 Dentures
Unlike conventional removable dentures, which can slide around in the mouth, All-on-4 implant-supported dentures stay put. When it comes to speaking, many patients don't need much time to adapt to All-on-4 implant-supported dentures because of the comfortable fit.
Patients with tooth loss will benefit from All-on-4 implant-supported dentures because they can talk more clearly and with the assurance that their dentures are safe.
When you have All-on-4 implants, how long does it take for your gums to heal?
Unlike conventional dentures, which can take up to 8 months to heal and a year to adapt to, All-on-4 dental implants heal in a fraction of the time. For one thing, you achieve instant stability, and the healing process starts as soon as the operation is done. After the implants are installed, most patients will return to their daily routine in as little as a few days.
When you get home after the treatment, though, you'll need to take some care to avoid irritating the healing spot. Since your mouth will still be tender, take care not to irritate the surgical sites:
On the first day, don't rinse with water; instead, use the medicated rinse your doctor prescribed to rinse the sore areas; if you have some bleeding the next day, even if it's minor, rinse your mouth with a DIY saltwater solution up to three times a day.
Avoid touching the sensitive areas to avoid discomfort.
Brushing is advised, but only if done gently and patiently with a gentle toothbrush.
Avoid smoking because it can only slow down and prolong the healing process.
References:
Geninho Thomé, Waleska Caldas, Sergio Rocha Bernardes, Carolina Accorsi Cartelli, Ana Helena Pereira Gracher, Larissa Carvalho Trojan, Implant and prosthesis survival rates of full‐arch immediate prostheses supported by implants with and without bicortical anchorage: Up to 2 years of follow‐up retrospective study, Clinical Oral Implants Research, 10.1111/clr.13678, 32, 1, (37-43), (2020). Carl Drago, Nisha Patel, Carl Drago, Guidelines and Maintenance Procedures for Fixed, Full‐Arch, Implant‐Retained Prostheses, Implant Restorations, 10.1002/9781119538172, (465-491), (2020). Tanvi Rajesh Balwani, Surekha Dubey Godbole, Seema Sathe, Aditi Vinay Chandak, Shanvi Agrawal, Prosthodontic Complications Associated with Immediately Loaded Fixed Implant-Supported Prostheses – A Review, Journal of Evolution of Medical and Dental Sciences, 10.14260/jemds/2020/745, 9, 45, (3394-3398), (2020).