Key Takeaways:
Dental prostheses are for replacing missing teeth
There are two major categories of dental prostheses: non-removal and removal. There is also a third one — implant-supported prosthesis
Each dental prosthesis device has a different installation procedure
A dental prosthesis is a lifesaver when it comes to replacing missing teeth. 
Healthy teeth make chewing and speaking easier. But most importantly, it gives your face a beautiful aesthetic. You feel more confident when you smile, knowing that your teeth are complete, white, and well-shaped. 
However, having a complete set of teeth is many people's dream. This is because missing or incomplete teeth spoil your facial appearance when you smile. 
According to Oral Health and Dental Care in Australia, about 35% of adults above 15 years feel uncomfortable about their dental appearance. This is mostly because they have missing teeth. 
If you fall within this category, you need a dental prosthesis. 
This article will explain dental prostheses and show you the various dental prostheses available and the procedures involved. 
What Are Dental Prostheses?
Dental Prostheses are also known as false teeth because they are artificial. They are dental appliances that restore tooth function and also cover up some tooth defects. 
Dental appliances are implants, crowns, dentures, bridges, and veneers. You can choose to have them removable or permanently fixed into the mouth. 
The general aim of dental prostheses is to rebuild facial structures, restore your smile, and preserve your oral health. Asides from the therapeutic measures, there are also corrective measures associated with dental prostheses. 
You can also choose to undergo the use of dental prostheses for cosmetics use. This appliance is used to restore the natural appearance and function of the teeth, gums, and facial areas.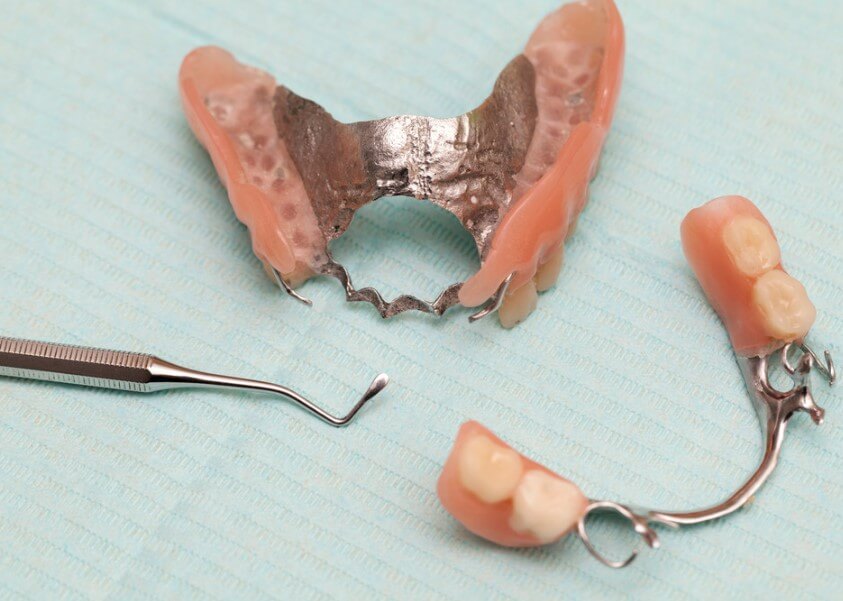 Do I Need Dental Prosthetics?
If you just lost a tooth, schedule an appointment with a dentist immediately. If you leave it for a long time, you risk getting gum disease, which can impact your overall health. The harm may become more severe the longer you wait.
If you have any symptoms, see a dentist or visit a health care provider.
Sore or bleeding gums
Tooth pain or sensitivity
Chipped, cracked, or worn tooth
Tooth discolouration or anything about your teeth's appearance that bothers you.
However, note you should remember that a prosthodontist is dental personnel dedicated to making replacements for missing or damaged teeth. So you shouldn't go to a general dentist to get a dental prosthesis. 
A prosthodontist is more than a dentist as they receive more extended training in crown fabrication, bridges, dentures, and other restorative treatments. My Implant Dentist has highly specialised prosthodontists available to attend to you. You can simply contact us now to book an appointment. 
Types of Dental Prosthesis
There are two main categories, which are removable and non-removable dental prostheses. There is a third category of dental prosthesis called an implant-supported prosthesis. It includes both parts of the other two categories.
1. Non-Removable Dental Prosthesis
Dental Bridges & Crowns
Dental bridges are great for replacing missing, decaying, or broken teeth. The prosthodontist inserts the false tooth or teeth between two dental crowns to form dental bridges. 
When the natural teeth cannot support a dental prosthesis, implant-supported bridges are used.
Your healthcare provider uses a dental bridge when you don't have one or several teeth in a row. But, these gaps should be between two abutments. 
Dental crowns are prostheses that fit over the tooth if it has sustained enough damage from a cavity, an injury, or even dental procedures like a root canal. 
They resemble caps. 
Dental crowns are from porcelain, ceramic, or metal. Price is sometimes dependent on the material in use and its longevity. You can have your dental crown instalment completed within a day or over several days. 
If you want the crown on the same day, you have to wait for the preparation process to be completed. But you can get your crown over multiple numbers of days. Your dentist gives you a temporary crown to wear, after which you will get a permanent crown. 
Dental Implants
Dental implants are screw-like prosthetics placed in the jawbone and have a range of uses alongside other dental appliances. 
These dental implants are initially screwed into the jawbone, after which your dentist can add crowns if only one tooth is damaged or missing. They will add bridges if several teeth are missing or even entire dentures.
Dental implants look more natural and reliable.
2. Removable Dental Prosthesis
Total Plate
A total plate is your best option if you have lost your whole teeth. It consists of two parts which are the base part and the teeth part. 
The base part is made of plastic, nylon, or metal. Total plates are fixed due to suction. Also, when the fixation becomes weak, you may need a denture-fixing cream.
Partial Prosthesis
Partial prostheses are for individuals with some healthy teeth left. They are made from a combination of metal and acrylic. They are made from a combination of metal and acrylic. They have metal clips that rest on their teeth.
A partial prosthesis is an excellent and less invasive option to maintain healthy gums, a strong jawline, and engaged face muscles, which will aid in the continued movement of your other teeth.
Clasp Prosthesis
Clasp dental prosthetics consist of two parts connected by a thin metal arc that fits against the mucosa. It is very comfortable. 
The clasp prosthetics look massive, but they take up less space. You care of them as you would a natural tooth. 
3. Implant-Supported Prosthesis
An implant-supported prosthesis is a restorative option for missing teeth. It is supported by dental implants.
There are three types of implant-supported prostheses:
Metal-Acrylic Resin
The metal-acrylic resin prosthesis is screw-retained onto the abutment sites. 
The acrylic resin bonded to the implants is kept in place by a metal framework created specifically for this purpose. 
Dental prostheses made of metal-acrylic resin use CAD/CAM to create perfectly fitted frameworks. 
Metal-Ceramic
The metal-ceramic is the most common form of implant-supported prosthetics. It has similarities with tooth enamel and helps in enhancing your dental aesthetics. You can customise the colour to suit the natural colour of your teeth.
A metal-ceramic prosthesis is made to be dependable and long-lasting. This particular style of the dental prosthesis is built to attach to the implant while guaranteeing long-lasting porcelain crowns securely.
All-Ceramic
An all-ceramic prosthesis is similar to a metal-ceramic excluding the metal frame. It is made from ceramic or zirconia instead of metal. It is mainly used in patients with an allergic reaction to metals.
Options for Dental Prostheses
When it comes to dental prostheses, there are several options available that can meet the needs and preferences of different individuals. In this section, we will explore the different options and costs associated with dental prostheses.
Materials
One of the options to consider when choosing a dental prosthesis is the material used to make it. Common materials used for dental prostheses include porcelain, ceramic, acrylic resin, and titanium. Each material has its own set of advantages and disadvantages.
For example, porcelain and ceramic are often used for dental crowns and bridges because they closely resemble natural teeth in terms of color and texture. They are also durable and resistant to staining. However, they can be brittle and may require more frequent maintenance.
Acrylic resin is often used for dentures and partial dentures because it is lightweight and easy to adjust. However, it may not be as durable as other materials and may require more frequent replacement.
Titanium is the most commonly used material for dental implants because it is biocompatible and can fuse with the jawbone through osseointegration. However, it can be more expensive than other materials.
Maintenance
Finally, another important option to consider when choosing a dental prosthesis is the maintenance required. All dental prostheses require regular maintenance to ensure their longevity and effectiveness.
Removable prostheses, such as dentures and partial dentures, should be cleaned regularly with a soft-bristled brush and a mild cleaning solution. Fixed prostheses, such as dental implants, require regular checkups with a dentist to ensure that they are functioning properly and to prevent any potential issues.
Cost of Dental Prostheses
The cost of dental prostheses can vary greatly depending on several factors such as the type of prosthesis, the materials used, the complexity of the procedure, and the location of the dental practice. Some common types of dental prostheses include dentures, bridges, and crowns.
Dentures are typically the least expensive type of dental prosthesis and can range from $300 to $5,000 or more for a complete set. The cost can depend on the materials used, such as acrylic or porcelain, and whether the dentures are standard or custom-made.
Bridges are used to replace missing teeth and can range in cost from $1,000 to $10,000 or more. The cost will depend on the number of teeth being replaced and the materials used, such as porcelain or gold. Bridges that use dental implants to anchor them in place tend to be more expensive than those that are simply cemented to existing teeth.
Crowns are used to cover and protect damaged or decayed teeth and can cost between $800 and $3,000 or more per tooth. The cost will depend on the materials used, such as porcelain, ceramic, or gold, and the complexity of the procedure.
Dental Prosthesis Procedure
A dental prosthesis procedure can take some days or weeks to complete. 
Your dentist examines your teeth; in most cases, a dental x-ray is done of the teeth involved in the dental prostheses. This dental examination helps your dentist determine the best dental prosthesis for you. 
After that, your dentist makes an imprint of your teeth. This is done by biting into a mould and sending it to the laboratory. Dental prosthetics can be made from either of these materials, like, acrylic, composite resin, porcelain, or zirconia.
Your dentist will surgically put a titanium fixture (post) into your jawbone to fit implants. After that, you must wait a few months or weeks until the prosthetic is inserted. This is done to ensure that the implant is properly positioned and fastened into the bone. 
If you get a removable dental prosthesis, your dentist may remove or embed a portion of the tooth surface to prepare it. 
 How Long Do Dental Prosthetics Last?
The implant-supported prosthesis can last for 10-15 years before needing replacement.
Some dental implants can last for about 25 years or more. 
However, the lifespan of dental prosthetics is also dependent on the type. 
Which Dental Prosthesis Is Most Suitable For You?
Before selecting the right dental prosthesis for you, a prosthodontist considers your oral health. This involves the thickness of your jaw, the number of teeth lost, and the health of the remaining teeth. 
After a thorough examination, your dentist can determine which dental prosthesis is best for you. 
FAQs
What Is The Difference Between An Implant And Prosthesis?
A prosthesis is a false replacement for a part, while an implant refers to something being surgically secured into the body.
What Is Fixed Dental Prosthesis?
The fixed dental prosthesis is a branch of prosthesis that deals with the replacement and teeth restoration with artificial substitutes fixed in place in the mouth.
What Prosthesis Is Placed When Some Teeth Are Removed?
Some prosthetics used when teeth are removed include dental Bridges, crowns, implants, dentures, and veneers.
What Are Dental Prosthesis Made Of?
They are mainly made of composite acrylic resin.