Dental implants and bridges are both reliable solutions for replacing missing teeth. These restorative procedures aim to reinstate the function and aesthetics of your smile. A dental implant is typically chosen when a single tooth is missing or needs to be extracted; it involves a surgical procedure to implant a titanium post into the jawbone, which then holds a prosthetic tooth. A dental bridge is used when one or more teeth are missing in a row. It uses the adjacent healthy teeth as supports to hold a row of prosthetic teeth, or 'bridge', in place, effectively filling the gap.
What is a Dental Implant?
A dental implant is used to substitute a lost tooth's root. It is a surgical fixture placed on the jawbone and allowed to fuse with the bone over some time (osseointegration). Dental implants dentistry is metal screw-like structures made of titanium surgically implanted in the jawbone to replace missing teeth at the roots.
Pros of Dental Implants
1. Long-lasting
With proper dental implant care, dental implants last a long time; they can last for 15 years or more. In some cases, they stay for life. A 98% success rate has been recorded for dental implants, lasting for decades when they are well-cared for. They are also the longest-lasting option on the market.
2. Retain Natural Looking Appearance
Dental implant designs are based on the shape and size of the tooth they are replacing, making them appear natural.
3. Convenience
Dental implants cancel out the inconvenience associated with removing dentures. They also eliminate the need for adhesive to keep them in place.
4. Cost-Effective Treatment
Dental implants are the most cost-effective tooth replacement. Unlike other forms of oral surgeries or restorative dentistry that need to be replaced every few years, which requires money, dental implants have no such requirement seeing they last long, thereby saving cost.
5. You can get as many teeth replaced as you want
Dental implants Brisbane does not need to replace just a single tooth. An individual implant is not required for each missing tooth; you can use ranging from one to four implants to support anything from a single tooth to a full arch denture.
Cons Of Dental Implants
1. Time-Consuming
Dental implants necessitate several visits to the dentist. The consultation, dental exam, surgical placement, healing phase, and therapeutic visits begin with the consultation. The entire procedure could last up to six months.
2. High Upfront Cost
The upfront expenses for dental implant surgery are higher than for other forms of missing teeth replacement like dentures. However, the durability after the high cost speaks volumes.
3. You'll Need Enough Bone to Support Them
People who lose their teeth due to gum disease also experience bone loss. To have single dental implants, you need enough bone mass to support them. People who don't have enough bone usually go for bone grafting.
4. There's a Chance The Restoration On Top Can Wear Out
Dental implants support fixed restoration. The porcelain in a crown or bridge may deteriorate over time and require replacement every few years or every ten years. You might be able to get the most time possible out of your porcelain dental treatment by wearing a protective biting splint.
What is a Dental Bridge?
A dental bridge is a fake tooth that is kept in place by the abutments on each side of the gap. Porcelain or plastic is used to make dental bridges. Some people may use gold.
Dental bridges are of various types, such as the traditional, Cantilever, Maryland, and Implant-supported dental bridges.
Pros of a Dental Bridge
1. Cost less than an Implant
Many patients choose a bridge over implants because of the cost. Unlike implants that cost higher upfront, bridges are less expensive.
2. It does not require bone grafting
The jawbones weaken when a tooth has been missing for a long time. Bone grafting strengthens the jawbone; the surgical procedure involves placing a bone fragment under the gums. However, this is only done for implants, not bridges.
3. Less time-consuming
Bridges are fast to put on, unlike other implants. It is not time-consuming like implants that take six months.
Cons of a Dental Bridge
1. Bridges don't correct bone loss
Jawbones are always weakened when a tooth is removed or missing. Bridges have no roots; they sit on the gum lines. Unlike implants that are screwed into the jawbones to strengthen them, bridges can't stop bone loss from occurring.
2. Bridges don't last long
Bridges don't have a long life span like implants. Due to their harmfulness to the teeth, they hardly remain in one place for a long time.
3. Some types of bridges can cause damage
Maryland bridge, a type of dental bridge, can cause damage to the existing teeth. This damage is because the Maryland bridge involves cementing metal to the back of the teeth. With this bridge, chewing may be hard and cause damage.
4. They require alterations to healthy teeth
Traditional and Cantilever bridges – A dental bridge requires removing a small amount of enamel from the neighbouring healthy teeth. This removal is for the dental crowns to fit well.
Dental Implant vs. Bridge: Procedure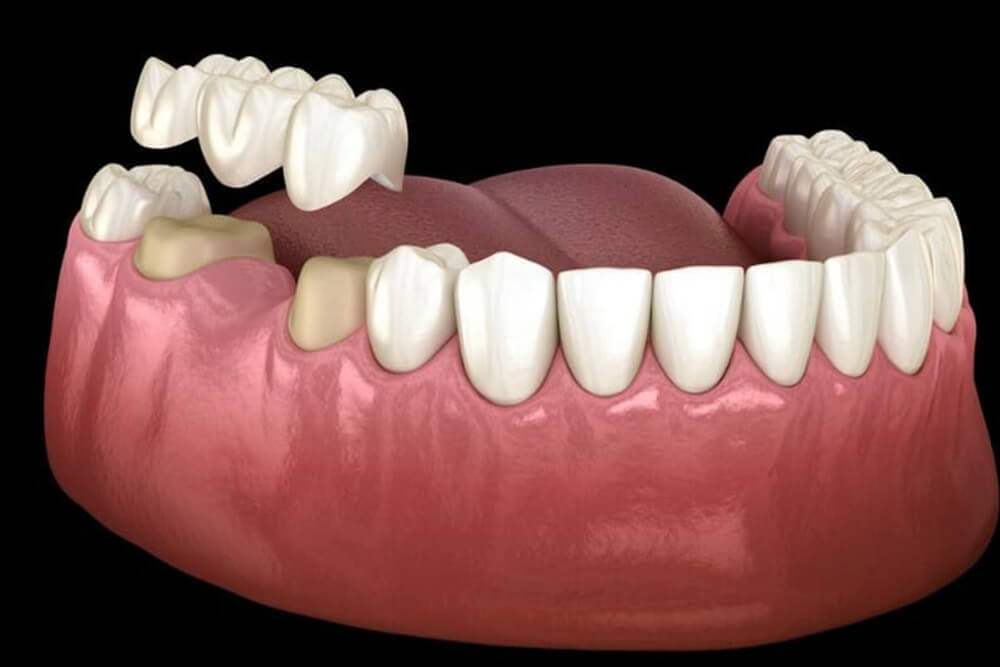 Dental Implant Procedure
The consultation and planning stages are the first steps in the dental implant procedure. Your dentist uses X-rays, panoramic films, or CT scans to examine the location of the dental implants. Using dental imaging, the dental surgeon determines the quality and quantity of the jawbone.
After assessing whether it is good for a dental implant, your dentist can choose to have the surgery immediately or book you for a later date.
During the dental implant, your dentist gives you a local anesthetic to numb the surgical area. The first stage of oral surgery involves tooth extraction and bone grafting if needed. The area will be given two to six months to heal.
If the site has no bone loss and enough bone is present, the implant procedure is next after the tooth extraction. In the implant procedure, the dental implant is placed into a bone, and a cap is placed over the implant; the gum is then stitched up and then allowed to heal.
After the healing phase, a denture (temporary) can be placed to replace the missing teeth for aesthetic purposes. The healing phase is characterised by the implant integrating with the bone. After the healing phase, which can take place between two to six months, the dental implant is tested to determine if the surrounding bone has successfully taken it up.
Once this is confirmed, an abutment is connected to the dental implant through a screw to hold the replacement tooth. Your dentist makes an impression or mould of the abutment in the mouth, and the implant crown is custom-made to fit properly. After this, the implant crown is secured with a screw to the abutment.
Dental Bridges Procedure
Bridges are typically made of metal, porcelain, or a combination.
Your dentist first examines the mouth and takes dental imaging (x-ray) of the teeth and mouth. To prepare you for the dental bridge, your dentist files down the two healthy teeth on either side of the gap. A mould is taken to make the bridge.
A temporary bridge may be given to you while waiting for a permanent bridge to be ready. Once your permanent bridge is ready, it is put in place and attached to the healthy teeth surrounding with dental cement.
Tooth Implant Vs Bridge: Treatment Length
Getting a dental tooth Implant in Perth can take between two to six months and, in some cases, more than six months.
Dental bridges can be installed within a couple of weeks. The process is quicker and requires just two dental visits.
Dental bridges require further treatment as they can weaken over time, while dental implants can last a lifetime, and you may need to visit your dentist once in six months for check-ups.
Dental Implants vs. Bridges: Cost
Dental Implants are more expensive than dental bridges costs. Regardless of cost, dental implants last longer, sometimes for a lifetime, which equals the amount of money spent on it. Dental bridges are the cheaper option.
Dental Implants vs Bridges: Health Benefits
Dental bridges are the quick solution to missing teeth replacement, but dental implants offer many health benefits. Some of these health benefits include: preventing further tooth loss, preventing jaw deterioration, improving your speech, and retaining more of your teeth.
Dental Implant vs. Bridge: Which is Right for You?
You must consider cost and speed to choose between the two tooth replacement options. Dental bridges are your best option if you want a shorter treatment time, lower cost, and no surgery involved.
But if you desire a long-term solution to your missing tooth, a dental implant is your best option. However, dental implants are not cost-friendly.
Conclusion
Dental implants and dental bridges are the two main options for missing tooth replacement. Choosing between options depends on your wants and needs; cost, durability, and treatment process.
If you have any missing teeth, a dental implant is your best option cost is not an issue and they last longer. However, your dentist can help determine your best option after carefully examining your teeth and mouth. Ensure your book a consultation at your local dental clinic.
If you don't have a local dental clinic, feel free to contact us at My Implant Dentist to discuss with any of our experienced dentists to help you decide which option you should choose.
faq
Is It Better To Have A Bridge Or An Implant?
Your choice depends strictly on what you want. However, a dental implant seems to be the better option because of its durability.
What Is The Price Distinction Between A Bridge And An Implant?
Dental implants cost between $3000-$4500 per tooth, while dental bridges can cost between $500-$1200 per tooth.
What Last Longer Bridge Or Implant?
Dental implants last longer than bridges. Their life expectancy is 15 years and more.
How Long Should A Dental Bridge Last?
A dental bridge can last from 5 to 15 years.