All-On-4 Dental Implants and Dentures provide solutions to missing teeth but approach the problem differently. All-On-4 Dental Implants are a permanent, surgically implanted system that replaces all teeth on the top or bottom of your mouth using four strategically placed implants. Dentures are removable appliances that can replace all or some missing teeth. While both restore function and aesthetics, All-On-4 Implants offer greater stability and a more natural feel compared to traditional dentures.
Quick Takeaway:
All-on-4 dental implants are a permanent solution for replacing missing teeth, while dentures are removable.
All-on-4 dental implants have a natural look and feel, while dentures may not feel as natural in the mouth.
All-on-4 dental implants are more expensive upfront, but may have a longer lifespan than dentures.
Dentures require maintenance such as cleaning and removal for sleeping, while all-on-4 dental implants are cared for like natural teeth.
The best option for an individual will depend on factors such as cost, lifestyle, and personal preference, and it is important to consult with a dentist to determine the best option.
What are All-On-4 Dental Implants?
All–on–four implants are a dental implant procedure in which four dental implants are placed in the upper or lower jaw, and a full set of teeth is then attached to the implants.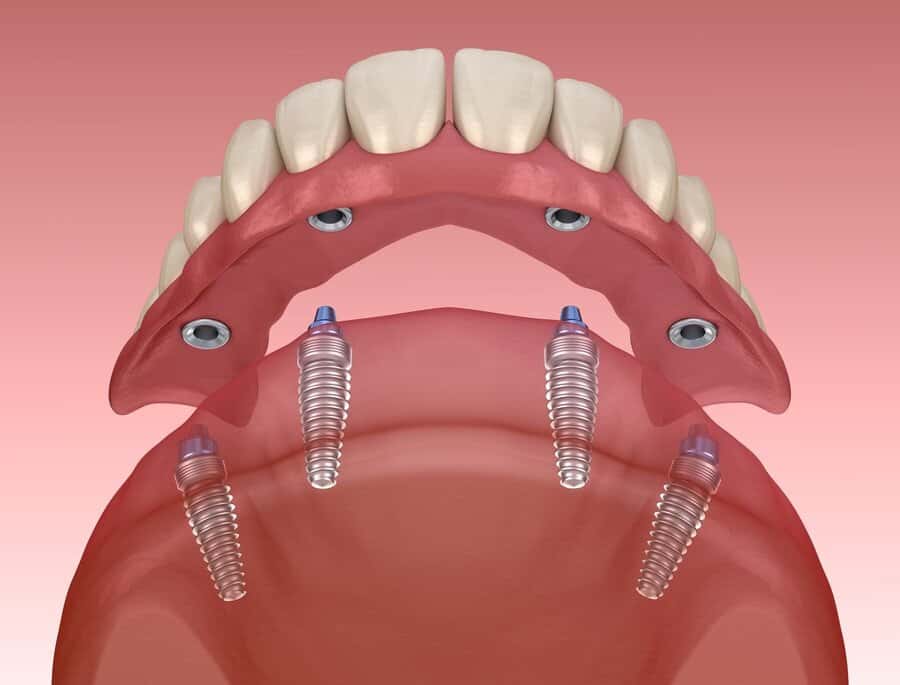 Dental implants have many advantages over dentures
By their very nature, implants provide several advantages and are now considered the gold treatment standard for patients needing tooth replacement.
Whether for a single tooth, multiple teeth, or an entire arch restoration. The most noticeable advantage of implants over dentures is that they are permanent.
Removable dentures that can fall during eating or speech can cause embarrassment.
Pros of All-on4
All-on-4 dental implants treatment option have been proven to have a 98% success rate by a 10-year study on patients.
These implants are, in most cases, a permanent solution to missing teeth as they are installed into your mouth.
The surgery, implant placement, and bone grafting (if any) can be done in a single day.
The healing process after the procedure is typically less than other dental procedures, and it even allows you to go home on the same day.
All-on-4s do not require a special dental care routine as regular brushing and flossing will keep them healthy.
Cons of All-on-4
In some rare cases, patients report difficulty pronouncing certain alphabets like "s" or "d".
The incisions made on your gum during surgery may cause tender gums for a few weeks.
The artificial gum on the dental implant may mismatch the colour of your natural gum.
Inadequate dental care may lead to dental problems like inflammation of the gums or bone loss around the implant.
The cost of the surgery is a bit on the high side, ranging from $12,000 to $20,000 per arch.
How do dentures work?
Dentures are removable replacements for missing teeth. They are made of acrylic resin sometimes in combination with metal attachments.
Other Types of Dentures
Dentures have been a favoured choice for replacing missing teeth for many years. And that's because they are a relatively effective tooth replacement option. There are several denture types, though. Read on to learn their benefits and demerits.
Full Dentures
These dentures are just what the name implies, as they are made to replace all the teeth in your lower and upper gums. They are also called complete dentures and are removable replacements.
The denture teeth are typically made out of acrylic and porcelain with a metal or acrylic base to hold them in place. The suction from your gum tissue helps to keep dentures in place both in the lower and upper parts of your mouth. Denture adhesive may also be used to keep dentures in place.
Pros of Dentures
You can get dentures even if you don't have the healthiest jaw, teeth, or gums.
Full dentures boost your confidence as they are aesthetically pleasing.
Full dentures help maintain your facial shape, which may appear sunken due to a previous lack of teeth.
Full dentures can last a relatively long time with proper care.
The full upper and lower arches are replaced when it comes to full dentures.
Cons of Dentures
Full dentures can fall out of the mouth without any implant support.
You may not be able to eat certain foods with full dentures.
Full dentures can break if not handled with care.
Full dentures can shift in your mouth and rub against your gums.
The adhesives that keep full dentures in place may be quite messy.
Overdenture
An overdenture is a dental prosthesis that uses dental implants to stay in place. A common problem with traditional dentures is that they may slip when eating or talking. Overdentures eliminate this worry.
It boosts your confidence even further since you can comfortably go about your everyday life without fear of your dentures falling out.
Pros of overdentures
Overdentures remove the fear and embarrassment associated with your dentures falling out in social gatherings.
Overdentures preserve the overall health of the jaw bone.
When properly maintained, it can be a permanent solution to missing teeth.
The appearance of the denture creates a more natural look.
Overdentures follow a simple dental care routine with the convenient addition of overnight soaking in a denture cleaning solution.
Cons of overdentures
The implants that hold overdentures in place require very healthy gums and bones.
The cost of getting overdentures may be high and not covered by your insurance.
The implant surgery can take several months before you can start wearing your custom overdentures.
Traditional Implant Bridge
A traditional bridge is held in place with support from the adjoining teeth, but a traditional implant bridge has dental implants to hold it in place. The dental implants act as a support system that ensures the bridge remains stable. These implant-based tooth replacements become part of the mouth.
Pros
The implants provide a firm foundation for the bridges, so you don't have to worry about them moving out of place.
The bridge's stability improves speech.
Traditional implant bridges are made to blend with your natural teeth.
These implants restore your confident-looking smile.
Traditional implant bridges preserve the health of your adjacent teeth since they don't get their support there.
Cons
In rare cases, your body may reject dental implants as they fail to grow around them. This typically happens with immunocompromised patients or smokers.
The implant procedure may take several months to complete before you get your traditional implant bridge.
The cost of getting traditional implant bridges is relatively high but may be invariably worth it.
All On 4 Dental Implants vs Dentures: Procedure
An all-on-4 dental implant procedure occurs for several months as it involves an initial consultation, extraction of teeth and infected tissues, healing periods, placement of implants abutments and finally the artificial teeth.
Depending on whether you're getting a full or partial denture, you may need a lengthy healing period for any removed teeth. The dentures are usually placed on your gums but you may have to be without your teeth for several months before then.
All On 4 Dental Implants vs Dentures: Treatment Length
Both denture and implant procedures can be quite lengthy. Dentures usually start with the removal of your teeth which may take 3-6 months to heal. After which the dentures are installed in your mouth.
All-on-4 dentures on the other hand require 4-8 weeks for the implant to be made before removal of teeth and subsequent placement of the implants. The healing can take up to 6 months before your artificial tooth is prepared, which may take up to 2 months. However, the lengthy process provides you with permanent teeth as opposed to the temporary teeth provided by most dentures.
All On 4 Dental Implants vs Dentures: Cost
The next thing to worry about lies in the all on 4 vs denture cost. The price of each teeth replacement method depends on a variety of factors ranging from the type of implants to even the type of dentures.
All-on-4 dental implants in Perth and Brisbane cost $19,000 per jaw on average, while the cost of dentures starts from $750 AUD. On a long-term view, though, all-on-4s may prove to be more cost-effective since they are a permanent option.
All On 4 Dental Implants vs Dentures: Which is Right for You?
You will need to take a close look at all the merits and demerits before deciding on your preferred teeth replacement option. Your dentist will also do a thorough examination to recommend what option is right for you at the moment.
faq
Are All-on-4 Implants Better Than Dentures?
Your dentist will determine which option will be better for you after taking a thorough look at your oral health and medical history.
Are Snap-in Dentures The Same As All-on-4?
Snap-in dentures are removable replacements for teeth and need to be taken out regularly for a thorough cleaning. While all on 4 is a permanent option.
Are Implant Dentures Better Than Regular Dentures?
Implant dentures are more stable in your mouth than traditional dentures, which can slip.
What Is The Alternative To All-on-4 Dental Implants?
Some alternatives to all-on-4 implants are full mouth implant bridges, implant retained dentures, full dentures, and hybrid options.
Are All On 4